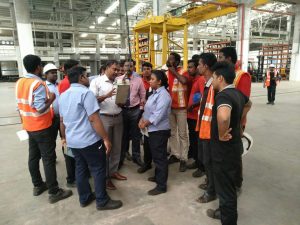 Safeguarding you and your employees
Leave nothing to chance in occupational safety. As an owner of cranes and hoists, electrical installations and equipment, you are responsible for the protection of your staff. Our regular safety inspections improve the security of your equipment. They ensure that hazards, such as personal injury or damaged equipment caused by falling loads, are identified and can be prevented in good time – and that statutory accident prevention regulations are satisfied.
Service for any brand
Regardless of whether you operate Jack Haul equipment or products made by other manufacturers – we aim to ensure fully safe operation. Our highly qualified service specialists are authorised to carry out safety inspections on all types of equipment.
All inspections from a single source
We organise and carry out all of your required lifting equipment safety inspections – with state-of-the-art expertise and a wealth of experience, helping you to meet your legal obligations as an owner and operator of industrial equipment.
Further benefits
Improved occupational safety

Protection against possible claims for damages

Avoidance of consequential damages and high repair costs

Reduction of unnecessary downtimes caused by malfunctions

Compliance with legal requirements

Complete documentation of the results
SAFETY INSPECTION OF CRANE INSTALLATIONS, WINCHES AND HOISTS
Regular safety inspections are not only decisive for the safety of your plant and equipment – they also extend product service life as damage and wear can be detected and rectified in good time.
SWP CALCULATION
Our SWP calculation provides you with reliable information on the remaining service life of your chain and rope hoists.

Students participating in the lfm program earn an mba and a masters of science in engineering in just two years of full
www.resumecvwriter.com/
time study.